With the New Year just around the corner, many people are starting to think of resolutions. We've thought about it ourselves. Eat healthier, but still enjoy delicious food; be kinder; listen more; practice patience; etc. But those are just a few of our personal resolutions. As dog lovers, we at Canine Lifestyle Academy are also thinking about our four-legged best friends. What could they benefit from? More walks and playtime? That seems like an obvious choice (and definitely one our dogs would love!), but what about the gift of clear rules and training? Relaxation? Working on focus instead of anxiety?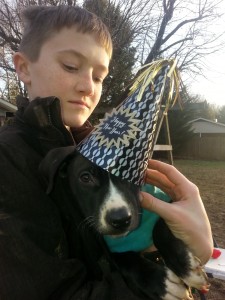 Meghan and I both have several things we plan to work on with our own dogs. I really *really* need to teach my dogs to go to their beds when people walk in the door of our home. I know – this is not a tough thing to teach; why haven't I done it yet? Right now it's like a free for all, with 150 lbs of barking fur hurdling towards our guests. Not good, not good at all. Meghan has been working with Grant on keeping his four paws firmly on the floor when he meets people, which can be hard with a pit bull/jumping bean mix. She is also planning on teaching her dogs to stay on their mats out of the way while her family is cooking dinner. Look for video and blog posts as we both tackle these challenges with our own dogs!
Canine Lifestyle Academy is also rolling out several new options for clients starting in January. Our goal is to reach everyone – whether you have a reactive dog, but can't attend classes and need help walking in public; a crazy hyper and bouncy dog who needs work with loose leash walking; a shy dog who needs help overcoming her fears; or a barky, mouthy adolescent who doesn't seem to fit well in other structured obedience class settings. Our two newest services are:
Terrible Teens – Adolescent Dog Class: This is for dogs between the ages of 5 months and 2 years, who need help with manners and impulse control. We'll help you teach your dog how to focus in public, politely greet humans and dogs, practice impulse control and settling (lay down and chill), and much more. Currently being offered in Westminster and Parkville!
Trainercise Midday Exercise and Training: For dogs of any age who need more physical and mental exercise. Depending on your needs, your yard and your dog, we will use a combination of walks, jogs, agility exercises, toys, games, and training to tire out your pooch. Currently being offered in Baltimore County and surrounding areas.
We're also very excited to now offer classes in Parkville/Baltimore County, with a lovely indoor option for bad weather and several large fields for nice days. This means we can now offer Off-Leash Puppy Classes for our Baltimore County clients!
We're hoping these new choices, in addition to our other class offerings, will help you fulfill your own New Year's resolution regarding your pup.
Happy New Year!
Meghan & Laurie
PS – Another personal resolution for the both of us? Blog more. Share our training perspectives, and also some personal details about our journeys – what brought us here. Show videos of our training sessions not just with client dogs, but also with our own dogs, so you can see the challenges we face, too. We hope you'll stick around and share your own journey with us!