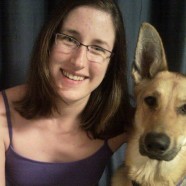 Meghan has been training dogs and other animals for as long as she can remember. In fact, she remembers training her childhood cat to "sit", "beg", and "fetch"! She has always been intrigued by human and animal behavior, leading her to pursue a degree in Psychology with a focus in Learning Theory. Owner & Head Trainer Meghan Burton has been training professionally for over 5 years. In college, she participated in multiple semesters of independent research in her school's pigeon lab studying behavior. After graduating, she took a job at a national pet store chain as a dog trainer, and found her calling. After interning with and assisting Laurie Luck of Smart Dog University she has since gone out on her own to form Canine Lifestyle Academy. She attends multiple seminars and conferences every year to keep current with the newest in dog training and behavior science. Meghan is a Certified Professional Dog Trainer – Knowledge Assessed, a member of the Association of Pet Dog Trainers and is a charter member of the Pet Professional Guild, along with being a Certified Canine Good Citizen Evaluator.
Meghan's biggest passions are:
Puppy socialization and training – so many behavior problems could be prevented by early intervention. If all puppies attended an off-leash puppy class, and had a trainer do an in-home consult to help with normal puppy issues, much fewer puppies would grow up to be adolescent shelter dogs.
Bully breed training and management – any dog with short fur, a large head, and a muscular body will face prejudice and discrimination, along with their owners. Training these dogs to be good citizens makes them ambassadors for their breed(s), and helps to sway public perception from negative to positive.
Rescue and adoption support – behavior problems are the number one reason dogs are surrendered to shelters and rescues. Making sure that foster dogs are provided with basic training, and adopting families are provided with support and information keeps dogs from being rehomed yet again – or worse, euthanized. Meghan provides behavior support to numerous rescues in Maryland.
Meghan is supported by her husband, Paul, and their three dogs: German Shepherds Marcus and Kyra, and pit bull Grant.
Training and Administrative Assistant Bethany Poese joined CLA in spring of 2016 and helps with administration, group classes, and runs our Train-ercise program.