Training and administrative assistant Bethany Poese joined CLA in the spring of 2016, after taking her dog-reactive pit bull, Juno, through CLA's Terrible Teens class with Meghan the previous year. Having conned her parents in to getting her two kittens as a reward for being potty trained as a toddler, she learned early that positive reinforcement was an effective way to influence behavior! She went on to take her first basic obedience class at 13 with her family's sweet but stupid English Springer Spaniel, Carson, and the rest was history. Maxwell, a wild 10 month old rescue cockapoo with separation anxiety, and 3 cats (Lily, Pasha, and Mama) round out Bethany's current crew of misfits.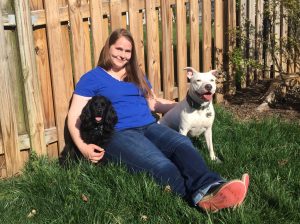 While reactivity and anxiety in dogs is a topic near and dear to her heart, she also enjoys trick training, NoseWork – and soon, she hopes, agility with Max! She is currently in the process of logging the 300 hours necessary to take the CPDT-KA exam, and going to seminars and workshops taught by experienced trainers and behaviorists whenever she's able.
Bethany runs our Train-ercise program, and helps with group classes and administration (and prefers email to phone calls, please!).