Jump-start your dog's training with one of the
first positive reinforcement board and train programs in the state –
and the only one designed with all dogs in mind.
Update: January 23rd, 2022
At this time, we are not offering board & train.
We hope to offer this program again soon – but until we have a better idea of when,
we will not be taking any reservations or adding to the wait list.
We recommend reaching out to one of the following positive reinforcement trainers,
depending on your needs:
Fast, effective training doesn't require
special equipment.
You just need to know what you're doing.
(We do.)
You love your dog – that's why you're here. You just want to spend less time fighting, getting frustrated, failing to teach new skills, and more time having fun.
We agree. You deserve a good life with a good dog.
More than that, we believe that your dog deserves to have a great time learning how to be a good dog.
Training should not be so stressful that it degrades the human and animal bond, but we know that sometimes, by the time you reach out for help, you're already at the end of your leash.
Guess what? We have a lot of leashes. Let us help.
Just need boarding?
We continue to offer boarding without training. All of the benefits of our carefully structured boarding program for the next time you go out of town.
Puppy Head Start
For dogs 6 months and under.
Puppies basic training, handling desensitization, and socialization including playing with appropriate adult dogs, meeting new people, going into public places and practicing polite behaviors.
$900
10 Day Stay
To brush up basic obedience skills, practice polite walking, coming when called, and settling on cue. Not for behavior modification.
Initial Consultation
1 follow up session
$1,800
2 Week Study
To teach new basic manners skills, as well as working on mild behavior modification such as self control and arousal control for dogs who jump and mouth, learning to settle on cue with distractions.
Initial Consult
2 follow up sessions
$2,200
3 Week Intensive
To address dog-dog reactivity, proof basic obedience under a variety of distractions and in new locations, settling in public, and any special requests.
Initial consultation
2 follow up sessions
$3,000
My dog is reactive. Will that be okay?
Absolutely. One of our most popular programs is our 3 Week Intensive for reactive dogs. Because we only have 4-5 dogs staying at any one time, we can restrict all interaction between your dog and any other we have staying with us – including visual! Not only are reactive dogs allowed, they're our speciality.
What about confinement or separation anxiety?
Unfortunately, dogs who are unable to be confined are the only dogs we cannot take for boarding. We need to keep all other dogs boarding with us safe, which means being able to restrict access in some way. We are happy to do a trial overnight if you are unsure how your dog will do being crated.
My dog is afraid of everything. Can you help?
Probably not with Boarding School. Most fearful dogs take comfort from structure and routine, and moving them away from the home and people they are familiar with usually makes them nervous enough that they can't learn very well. We keep a nicely structured, quiet home for times we need to board fearful dogs, but training is often too much for them. We'd be happy to meet with you and assess your specific situation if it's still something you'd like to consider!
Can you take human aggressive or fearful dogs?
Again, probably not with Boarding School. First, many human aggression issues stem from dogs guarding their own home or owners, which we can't reproduce here. Second, we do not yet have enough trainers on staff to be "decoy humans" to really generalize behavior modification training like we can with dog-dog issues. The human aggressive dogs we've taken for Boarding School in the past have come for management training such as a rock solid recall, settle on your bed, relaxation training, attention and walking skills. We'd be happy to meet with you to assess your dog's specific needs and decide if board and train could be a good training option for you.
How many dogs do you have at once?
We only have one Boarding School dog at a time, to ensure that your dog gets the attention and makes the progress you are paying for!
We may have up to 4-5 dogs in total boarding with us, but only one receiving training.
When does training occur?
We train every time the dogs are out of their kennels! Dogs learn fastest with short sessions interspersed with play and daily life, which is what makes board & train so much more effective than the traditional hour long in-home visit twice a week.
Where does my dog sleep?
We have a variety of sizes and types of crates, as well as multiple 5 ft by 5 ft freestanding kennels where dogs spend their downtime, including overnight. Our boarding area is in the finished basement of Meghan's home, with a video monitoring system – they're never far away!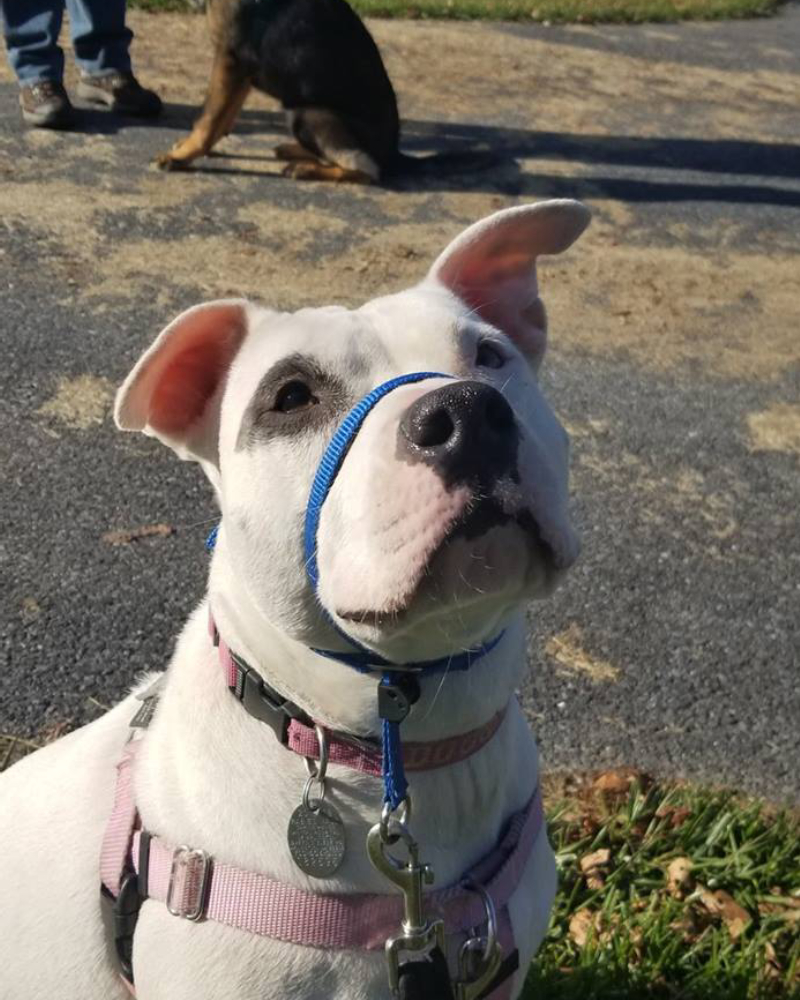 Ready for a jump start to a better relationship with your dog?
Email us today. Spots are extremely limited.