Pandemic Puppy 101
It's a scary world out there – but your puppy doesn't need to worry.
Puppies are exhausting – emotionally and physically. Add on a global pandemic with social isolation, and things can get overwhelming, fast!
Who do you listen to? What do you prioritize? How do you get it all done?
Have you had your daily "oh god, what have I done?" moment yet?
We have reformatted Puppy Prodigy, and cordially invite you and your puppy to
Pandemic Puppy 101: because we want to make sure that an unusual start stuck at home doesn't jeopardize your enjoyment of a lifetime with a great dog.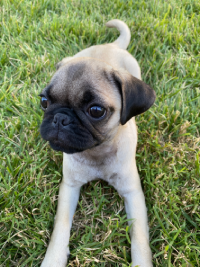 Step 1: Pandemic Puppy 101 Add-On
The Pandemic Puppy 101 Add-On to Elementary Online will allow you to recieve all of the information from our basic manners class, plus private one-on-one training for 4 weeks!
Step 2: Pick Your Start Date
Select the date you would like to attend your first Elementary Online Zoom session, and then proceed with check out.
Step 3: Check Your Email!
After registering, you will recieve an email from us to schedule your first Zoom session with your puppy, get your trainer's cell phone number for important middle of the night puppy questions, and answer any questions you may have!
With Pandemic Puppy 101, you'll benefit from:
Once a week private Zoom sessions, with a focus on socialization and common puppy problems!
Email and text support, including video review, to ensure you're on the right track!
Helpful links to articles with tips and tricks for raising a puppy during a pandemic.
You will also be receiving unlimited access to Elementary Online – including the Sunday morning Zoom class.
A $200 investment in your puppy's future never looked so good.
Sign Up Now!
Select "Pandemic Puppy 101" under "Add to your appointment"
Select the date for your first Elementary Online Zoom session.
Click "Continue."
Fill out forms & pay!