Puppy Pre-K
Off Leash Play
Socialization
Education
All of your puppy questions: answered.
Congratulations! You've added a puppy to the family – now what?
Step 1: Sign Up for Puppy Class
No, really. Schedule your vet appointment, and schedule your first puppy class. It's that important!
Puppies under 16 weeks are sponges for new experiences. They are constantly learning about the world, and in most basic terms, what is safe vs. not safe.
It is our job to teach them that, while the world may be weird, make strange noises, look funny, be super big, or move unpredictably, it is ultimately a safe place to be.
Around 16 weeks, they start to grow more naturally suspicious of the unknown, and our job gets much more difficult!
Meghan and Bethany know their stuff. Whether it's reactive dogs or puppy socializing, they help dog parents do the right thing for their canine companions.
When?
Saturdays at 1:15 pm
Wednesdays at 7:15 pm
Feel free to mix & match classes!
Where?
Green Acres Pet Center
5718 Ridge Rd
Mt Airy, MD 21771
Cost?
$30/class
or
$175 for 6 classes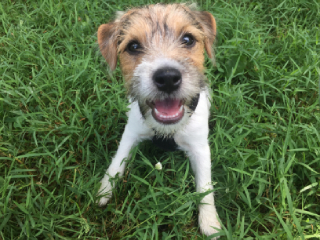 What's this "socialization" stuff about, anyways?
Ultimately, we socialize our puppies so that we have dogs who are able to join us in society in an appropriate and acceptable manner. A well socialized puppy, ideally, is one who will be able to confidently walk in to any situation we would like them to as an adult!
To get to that well adjusted adult dog, we need a puppy who isn't afraid of novelty. We also need to teach our puppies how to interact with the world around them.
Socialization is a double pronged process: positive exposure to a variety of stimuli, plus education on how we'd like them to interact with that stimulus!
(Can you tell we love all this puppy business?)
When should you start?
It's a no-brainer to take your new puppy to the vet for a check up and to get started on all of their vaccines when they arrive home, but are you taking care of their behavioral and mental health, too?
The American Veterinary Society of Animal Behavior recommends starting puppy class with a positive reinforcement trainer at 7-8 weeks – as soon as your puppy has received their first vaccine, not waiting until they've finished the series. "Behavioral issues, not infectious diseases, are the number one cause of death for dogs under three years of age."
Let's booster your dog's behavioral health.
Join us for Puppy Pre-K.
Don't wait.
Sign up now.
Choose which option works best for your budget & schedule:
Puppy Pre-K Package
Sign up for a package of 6 classes
& recieve a free gift!
Schedule Drop-In Sessions
Have an older puppy, a busy schedule,
or not sure if Puppy Pre-K is right for you?
You're welcome to schedule (and pay) for one class at a time.