Elementary Manners
Start the foundations for
a lifetime of good manners!
Elementary Manners
consists of one
fifteen minute orientation,
and six one hour
group classes.
Step 1: Attend Zoom Orientation
Learn a little about us, our class, and positive reinforcement training. After attending, you'll be ready to hit the ground running on Week 1!

Step 2: Come to Class!
Bring your dog for six weeks of flexible, fun,
fit your life training.
Elementary Manners runs as an open enrollment class: as soon as you're ready to start, we're ready to have you!
We have three class themes that we rotate through each week, to ensure that you will have the opportunity to learn all of the foundation skills your dog needs to be a polite member of society.

Out & About
Loose Leash Walking
Polite Greetings
Relax on Your Mat
Leave It
Coming & Going
Loose Leash Walking
Recalls
Go to Your Mat
Stay
Focus & Attention
Loose Leash Walking
Stay
Leave It
Relax on Your Mat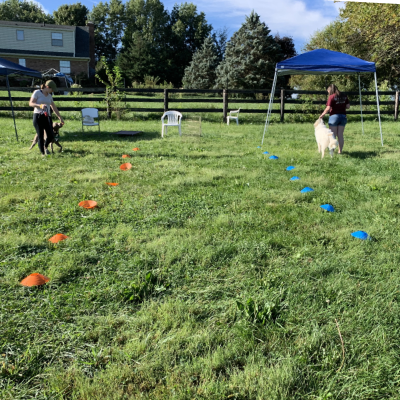 Each week, we will focus on one theme – a total of 4 skills – and work with you and your dog, at your dog's level, and make progress as their speed. Don't worry – no two dogs start at the same point, so there's no need to make class a competition.
We believe in progress over perfection, and every dog has the ability to make great progress.

Have to miss a week due to another commitment? No worries! Sign up for the weeks that work best for you. You have nine weeks to finish your six classes – and because you aren't starting on the same day as your classmates, there's no drama if you don't finish on the same day, either.
When?
Saturdays at 11:00 am
Starting September 18
Class is run on rolling enrollment –
as soon as you're ready to start, we're ready to have you.
Where?
Union Bridge, MD
Approximately 25 minutes from Frederick, Westminster, and Eldersburg, MD.
Cost?
$30/class
or
$175 for 6 classes
 Select "Elementary Manners Orientation."
Pick your first available Monday to attend an informal, 15 minute Zoom orientation.
Select "continue" to confirm.
After checking out, you will receive a link to sign up and schedule your in-person Elementary Manners classes!